Stay Safe Online
Safety and security are the top priorities for the Coalition Government, and this includes ensuring that Australians are safe when they go online, which is especially important for young Australians and school children.
Online safety for school children is a significant issue that has developed from the rise of social media and other online platforms, and the Australian Government has been at the forefront of making the internet a safer, more secure and more positive environment for the community.
In 2013, the world's first Children's eSafety Commissioner was established, a dedicated statutory position with a mandate to improve community awareness of online safety risks for children and to police against online bullying. This eSafety Commissioner was created because the Coalition Government recognised that intervention was needed to prevent the most vulnerable in the community from having harmful online experiences.
The Coalition Government has also empowered the eSafety Commissioner to order the removal of cyberbullying material directed at children from social media platforms. The eSafety Commissioner has currently resolved almost 1,000 complaints about cyberbullying material targeting children and has had a 100% success rate in removing harmful cyberbullying material with the cooperation of social media services.
Despite this progress in making the internet a safer and more positive environment for children, however, the best way to keep children safe online remains in educating and communicating with children about the dangers that exist and what they should be doing to protect themselves. This is why we have created a 'Stay Safe Online' poster for the benefit of Sturt constituents and schools to help their children or students.
This poster not only contains helpful tips about the things children can do to stay safe online and to protect themselves against online bullying, such as never sharing personal information and being open with their parents about their online activities, but it also serves as a reminder to always be cautious and aware when they use the internet.
If you live or work in the Sturt electorate and would like a 'Stay Safe Online' poster, please feel free to contact my electorate office on (08) 8431 2277, or you can collect one from my office during business hours.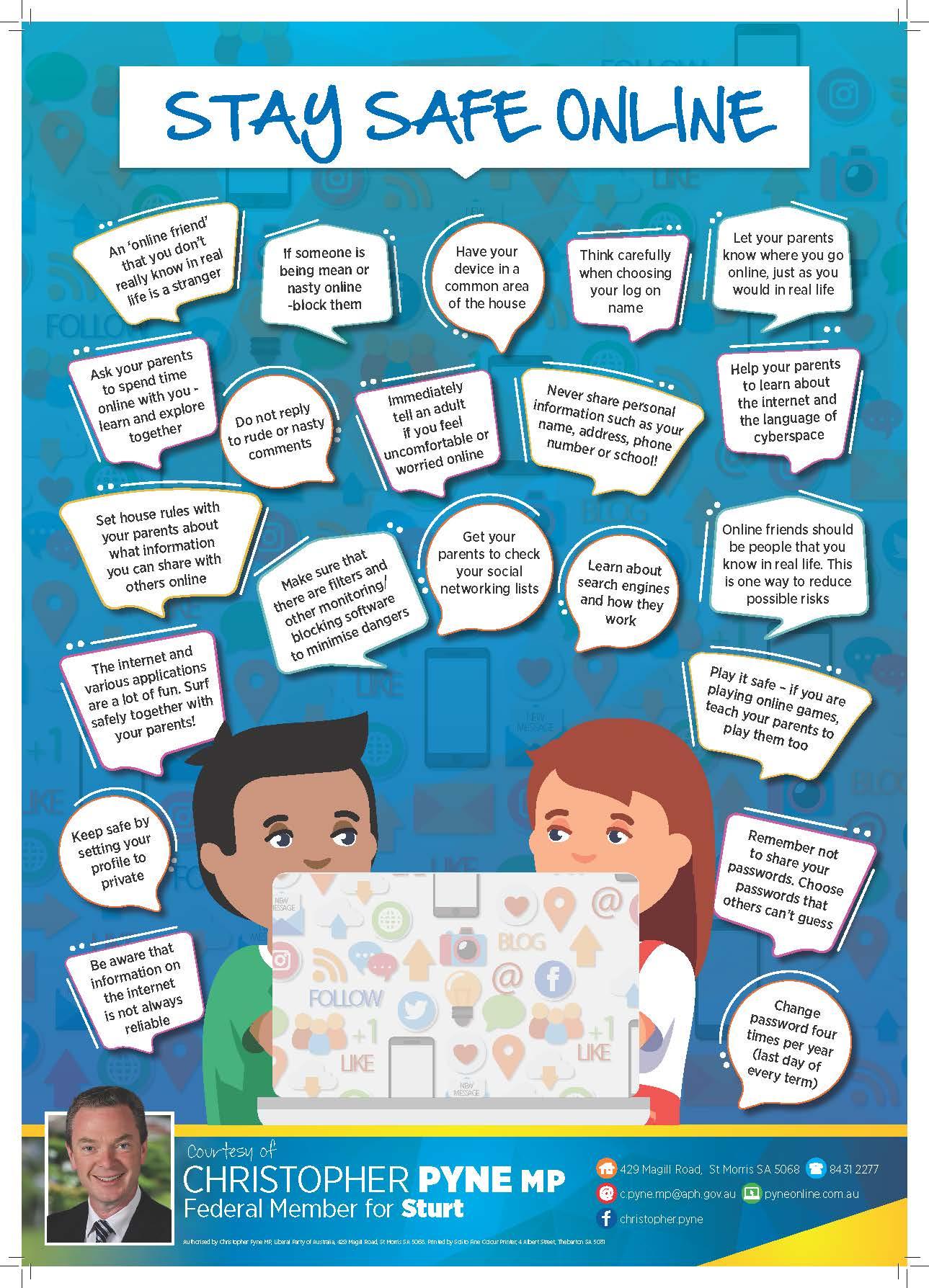 SUBSCRIBE TO Stay Safe Online ISSUE